Showing 13–15 of 15 results
The RG-1 Remote Operating Gravity Meter is designed to be incorporated into autonomous underwater or terrain vehicles for the purpose of acquiring micro gravity data remotely. The RG-1 is easy to integrate into an existing AUV / ROV, requires low power and includes a standard serial port for control, data output and battery connection.
TAGS-7 represents the latest development in a long line of LaCoste-based airborne gravity systems, stretching back to the first successful airborne gravity flights in 1958 and building on the success of the TAGS System. For over 50 years, LaCoste gravimeters have acquired hundreds of thousands of line kilometers of gravity data during academic, government, and commercial surveys. TAGS-7 blends the latest in GPS and data acquisition technology with the solid foundation of the LaCoste dynamic gravimeter. TAGS-7 is an upgrade to the TAGS-6 gravity meter, and is designed specifically for airborne operations. The system incorporates a time-tested, low-drift, zero-length-spring gravity sensor mounted on a gyro-stabilized gimbal platform. The sensor has a worldwide gravity measuring range (no reset necessary) of 500,000 milliGals.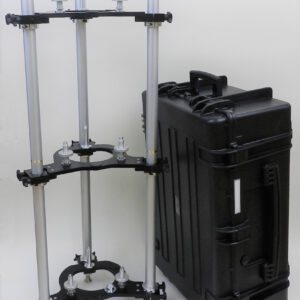 The tripod has a rigid structure that accurately positions the gravity meter at predetermined levels for a quick and precise measurement of the vertical gravity gradient. The three different levels enable the detection of a non-linear vertical gravity gradient in rugged terrain. The design accommodates CG-5 or CG-6 Autograv™ gravity meters.